Events

イベント

Events
Akita Pride March, "Workshop & Parade"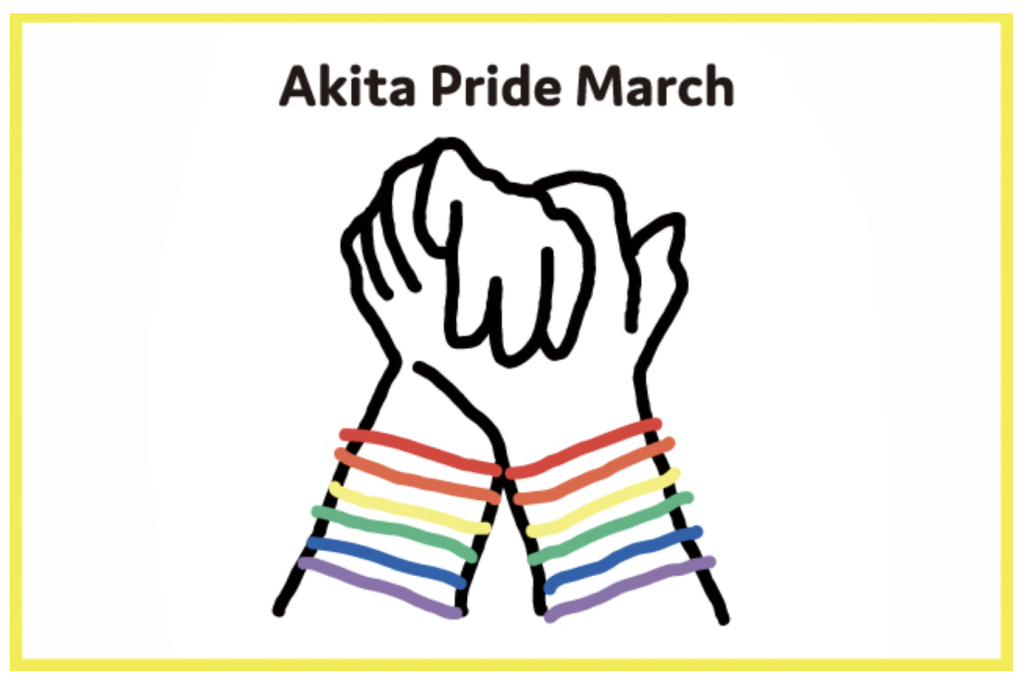 2022.07.12
Akita Pride March, "Workshop & Parade" of which Aoi MURATA, a first-year Master's student of AUA, is a joint representative was held on Saturday, May 28, 2022.
---
One statistic shows that one among eleven is a member of a sexual minority, and this is almost same rate as lefties or blood-type-AB persons. "We are here! We want to make Akita the place easier to live!", these are the voice of people who are struggling with their sexuality and suffering from discriminations and prejudices or feeling uneasiness in living life due to their sexuality. Sympathizing their earnest wishes, universities students and volunteer groups stood up and planned this event, aiming to spread understanding about LGBT people.
They start the "Pride Parade", being proud of themselves.
---
Why does the parade take place in Akita?
"Why does the parade take place in Akita?" We can find the key of its answer in circumstances surrounding members of sexual minority: some of them have left Akita, and some people killed themselves, due to sexual intolerance they have faced in society. Some HIV patients are forced to come back to Akita, having left their occupation, and are getting medical treatments in Akita.
In fact, the bigotry about sexual diversity sometimes lets them leave Akita and deliberate self-destruction.
In addition, there are very few opportunities for students to receive education about the risks to contact contagious diseases attributed to homosexuality. As a result, many young homosexuals have little knowledge about way to build sexual relationships with partners on an equal footing, and finally, fail to protect themselves from diseases.
"Wishing Akita prefecture to be a place where anyone can live without anxiety and also come back anytime to", such wish is the starting point of this parade.
---
We are here and waiting for your return.
What we want to tell at this parade is that "We are here". Sexual minorities are not always the characters in movies or dramas but are living with us in this real world. The only thing making them hide in the silence is a kind of fear against discrimination and prejudices likely to take place following their "coming-out" in their communities. We want to tell "There are your friends also in Akita" to sexual minorities who have left Akita prefecture.
"Please come back to Akita prefecture without any anxiety" and "A large number of allies are waiting for your return." We would bring these messages to many people through this march.
---
【Parade&Workshop】  ■Date: Saturday, September 4                                      ■Workshop: 「A 50-year history of Pride Parade」
■Time:AM 10:30 – 11:30(60 minutes)
■Lecturer:Tomato HATANO(Writer、Transgender activist)
■How to participate : ①Coming to the venue on the day of the event for those who cannot access the internet.
※Participating at the venue might be impossible due to unforeseen condition such as COVID 19 infection spread.
②Joining Zoom or Youtube distribution
■Venue:Training room at Akita-ken chuoh danjo kyodo sankaku center [Akita Prefectural Central Gender Equality center], ATORION 7F(West side of Akita Station), Akita city (Maximum: 40 persons)
---
【Professional Experience of Lecturer】
Tomato HATANO
Began her gender transitioning at age of 26 and restarted her life as a trans woman at age of 29, she established a Japan-first HP named of "Transgender Café" which was the starting point for her in delivering the information associated with gender transitioning. After a 10-year working as a so-called "new-half" in the sex industry, she is now also sending messages, calling for human rights of transgender people and an exclusion of non-binary or gender-queer from diseases classification.

---
---
Photos of "Akita Pride March"
---
---
Sponsor:Akita Pride March Executive Committee (APM)
Joint Representative-:Runa Ito(Akita International University Diversity Club )Joint Representative:Aoi MURATA(Akita University of Art LGBT Circle)
Joint Representative:Masaki Masataka (Gender and Human Right ESTO) 
E-MAIL