学生の活動
News

ニュース

News
Graduate School of Transdisciplinary Arts: Master's 1st-Year Transdisciplinary Arts Practicum Exhibition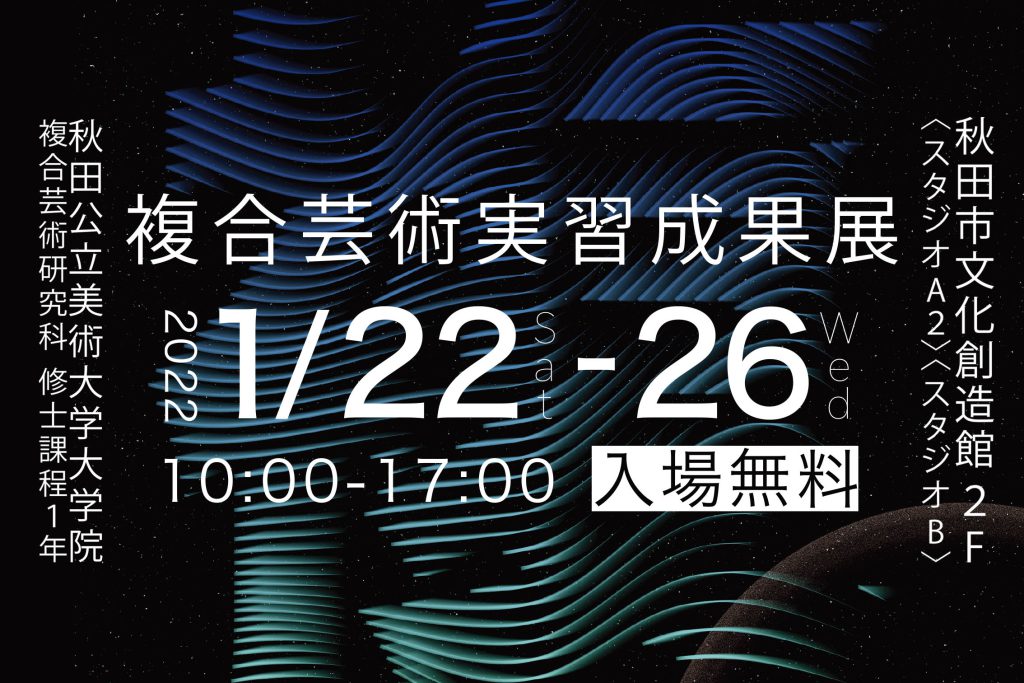 学生の活動
2022.01.17
Akita University of Art Graduate School of Transdisciplinary Arts held its annual "Master's 1st-Year Transdisciplinary Arts Practicum Exhibition" from January 22 (Sat.) to January 26 (Wed.), 2022.
---
In the Graduate School of Transdisciplinary Arts, students study practical methods from outside their own areas of expertise, in order to explore the possibilities of creating new fields of art and design. Incorporating these new methods into their artistic activities, students endeavor to reassess the relationships among the various elements that make up existing things and phenomena.

In this exhibition, the students of the 1st-year Master's course "Transdisciplinary Arts Practicum" will showcase the results of their individual research. This course takes the form of "outreach projects," which students undertake in cooperation with an outside organization of their choice. This year's students planned and managed a variety of these "social practice projects," which included social intervention programs, development of devices and games, research on local cultures, and the creation of new public spaces.

The 10 students of the 1st-year Master's class look forward to presenting the results of the projects they undertook in cooperation with their outside "counterparts" over the course of the semester.

---
Exhibition period: January 22 (Sat.) – January 26 (Wed.), 2022
Time: 10:00-17:00
Admission: Free
Venue: Akita City Cultural Creation Centre, 2nd-Floor Studio A2 and Studio B
    〒010-0875 Senshumeitokumachi 3-16, Akita City
    * 10-minute walk from JR Akita Station West Entrance
    * 5-minute walk from "Senshu Kouen Iriguchi" (千秋公園入口) bus stop
    * The Akita City Cultural Creation Center does not offer any parking. There are several paid parking areas nearby.
*Please contact the venue beforehand if you use a wheelchair.


---
[Artist name / Project name (Counterpart)]
OTSUTO Masashi / Kage de terasu [Shining in shadow] (JR East Akita)
SEN Chie / White cube in white cube (Cable Networks Akita)
MIURA Saki / Goyokiki no Saki [Saki the roundswoman] (Hoko Ltd.; local residents of Araya District, Akita City)
KANETA Marika / Ushinawareru toshi no kioku [Memories of a lost city] (Takidashi Shihankai)
KURIHARA Momoka / Find you in your eyes
TAKAHASHI Kotomi / Noiri [Mobile coffee stand] (Akita City Omachi Nanbanya Coffee Shop)
EKI Zenitsu / Tacchi! Shuzo! [Touch! Brewery!] (Hiraizumi Sake Brewery, Nikaho City)
SAKAGUCHI Masahide / Naratibuserapi o oyoshita anarogugemu no kaihatsu [Development of analog games for narrative therapy] (Akita University Clinical Psychology Advisory Center)
IWASE Umi and SAKURAI Rina / book shelter (Akita Prefectural Central Gender Equality Center ("Harmony Plaza"))


---
Akita City Cultural Creation Centre

---
[Information for visitors]
1) Please refrain from attending the venue if you have a fever or cold-like symptoms.
2) Please wear a mask inside the venue.
3) Please disinfect your hands and take your temperature at the venue entrance.
4) Please write your name in the register.
5) Entry may be restricted to avoid overcrowding inside the venue.

---
Flyer design: MIURA Saki and EKI Zenitsu (Master's Course 1st-year students, Graduate School of Transdisciplinary Arts)


---
Exhibition Images
---
Session Images
---