The 58th International Art Exhibition – La Biennale di Venezia
Exhibition

展覧会

Exhibition
Exhibition in Japan of the Japan Pavilion "Cosmo-Egg"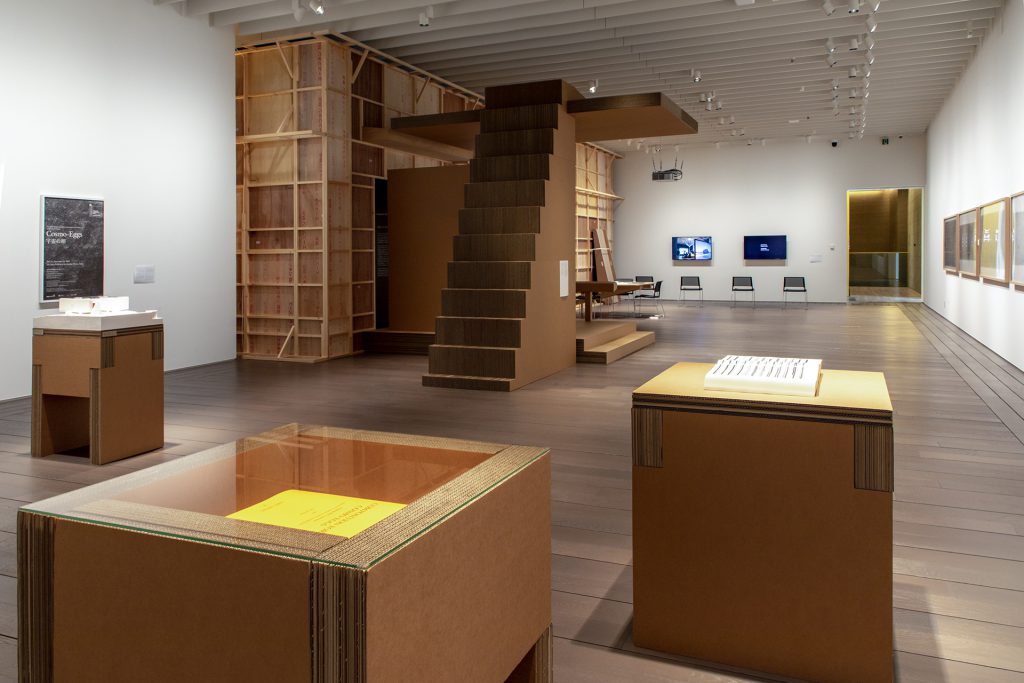 The 58th International Art Exhibition – La Biennale di Venezia
2020.06.23
"Cosmo-Eggs," curated by Hiroyuki Hattori, is recomposed and exhibited in ARTIZON museum (former BRIDGESTONE museum) exhibition.
---
La Viennale di Venezia is the oldest international art exhibition established in 1895 and still has a great influence to the contemporary art.The Japan Pavilion for the Venice Biennale was built in 1956 with funding provided by Shojiro Ishibashi, founder of the Ishibashi Foundation which established former BRIDGESTONE museum (ARTIZON museum). Because of this historical connection, the homecoming exhibition of the Japan Pavilion's Venice Biennale exhibition has realized at the ARTIZON museum.
Curated by Hiroyuki Hattori, the exhibition "Cosmo-Eggs" is realized by specialists from distinct fields –an artist, a composer, an anthropologist and an architect –and explores themes of coexistence and symbiosis between human and nonhuman entities. The homecoming exhibition will feature a reorganization of the original "Cosmo Eggs" Biennale show in accordance with the exhibition space at the ARTIZON Museum. In ARTIZON, the reproduced exhibition room of the Japanese Pavilion on a 90% scale with all the art pieces are installed exactly same composition is centered as the foundation. Adding the original installation, in which video, music, words and space exist and co-exist as individual elements, the homecoming exhibition will also present new materials such as additional documents and archives.
*This introduction was written based on the the outline released by ARTIZON museum.
*photo: ArchiBIMIng, Coutesy of ARTIZON museum
---
【Information】
Exhibition title : Exhibition in Japan of the Japan Pavilion at the 58th Japan Pavilion at the 58th International Art Exhibition International Art Exhibition – La Biennale di Venezia "Cosmo-Eggs"
Exhibition period : 23 June​ [Tuesday]​ – 25 October​ [Sunday], 2020 *Revised Exhibition Schedule
Location : 1-7-2 Kyobashi, Chuo-ku, Tokyo, Japan
Opening hours : 10:00 – 18:00(20:00 on Fridays/ suspended until further notice)​ * last admission 30 minutes before​ closing
Closed: Mondays (open 10 August, 21 September), 11 August, 23 September
Venue : Artizon Museum, 5th floor
Organizer : Artizon Museum, Ishibashi Foundation / The Japan Foundation
Technical realization in cooperation : Canon Marketing Japan Inc.
Concurrent Exhibitions
Jam Session: The Ishibashi Foundation Collection x Tomoko Konoike​ ​Tomoko Konoike: FLIP (6F Gallery)
Selections from the Ishibashi Foundation Collection (4F Gallery)
Special Section | New Acquisitions: The Paul Klee Collection
*Check the ticket prices >> ARTIZON MUSEUM
Exhibition in Japan of the Japan Pavilion at the 58th Japan Pavilion at the 58th International Art Exhibition International Art Exhibition – La Biennale di Venezia "Cosmo-Eggs" special site
---