トークイベント
Events

イベント

Events
Artist Talk: Nodoka Odawara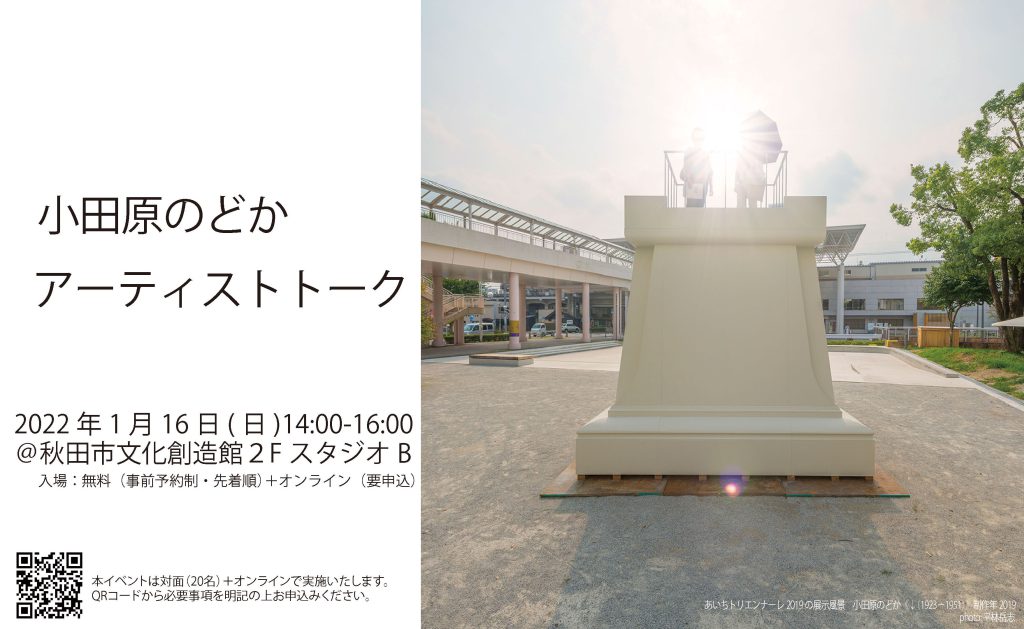 トークイベント
2022.01.06
Akita University of Art Master's first-year students Umi IWASE and Rina SAKURAI will hold a talk event "Artist Talk: Nodoka Odawara" in Studio B on the 2nd Floor of the Akita City Cultural Creation Center on Sunday, January 16, 2022.
---
This event featured artist Nodoka ODAWARA, whose research, writings and artwork interrogate the role of modern public sculpture. Odawara has also lectured at a number of art universities in Japan on the subjects of feminism and gender.
Odawara was by introducing her solo exhibition "Overcoming/Sculpting Modernity: Aomori Snow Country Edition" (currently being held at the Aomori Contemporary Art Centre (ACAC) through February 13), before moving on to a discussion of her efforts towards talkling gender discrimination and harassment in art universities and the larger art world.

---
Artist Profile

Nodoka Odawara
Nodoka Odawara is a sculptor, critic and publisher. She was born in Miyagi Prefecture in 1985 and currently resides in Tokyo.
Odawara received her Bachelor's in Mixed Media Sculpture from Tama Art University, followed by a Master's in Intermedia Art from Tokyo University of the Arts, and a Ph.D. from the University of Tsukuba Graduate School of Comprehensive Human Sciences. Selected recent publications include "Monuments must fall?: On the defacement of statues by BLM" (Gendai Shiso [Modern thought]. October 2020 special issue) and "Overcoming/Sculpting Modernity" (Kodansha, 2021). Selected recent exhibitions include "Aichi Triennale 2019" and "PUBLIC DEVICE: Symbolism and Permanence of Sculpture" (co-curator, Chinretsukan Gallery, Tokyo University of the Arts, 2020).

---
This event will be conducted in both in-person (limit 20 persons) and online formats.
Please register through the form below to participate (form is in Japanese only).
(This event has ended.)
Registration form

---
Date/Time:January 16 (Sun.), 2020 at 14:00-16:00
Venue: Studio B (2nd Fl), Akita City Cultural Creation Centre (Senshumeitokumachi 3-16, Akita City)
Entrance: Free of charge (pre-registration is required for both in-person and online attandence. In-person participation will be limited to the first 20 registrants. This event will be conducted in Japanese.)
Host: Akita University of Art Graduate School of Transdisciplinary Arts
Organizers: Umi Iwase, Rina Sakurai (Master's Program, Akita University of Art Graduate School of Transdisciplinary Arts)
Contact: s218006@akibi.ac.jp

---
---