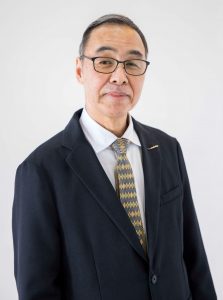 MESSAGE FROM THE PRESIDENT
The University that travels through time

Ten years have passed since Akita University of Art was established as a Four-Year university. Although we have only ten years of history as a Four-Year university, the root of our school goes back to a two-year public school of arts and crafts, Akita City School of Arts and Crafts, established in 1952. Since then, being followed by Akita Municipal Junior College of Arts and Crafts established in 1955, we have contributed to regional arts and crafts for a long period of 70 years.
"Cross-disciplinary" and "Transdisciplinary Arts"
In Four Founding Principles, Akita University of Art states its vision to create new artistic values by re-examining the states of art education in modern Japan with local culture.  The vision leads students to new artistic expression possibilities acquired by crossing the field of study.  We can find an enthusiasm to construct an unbounded and unique educational basis of the undergraduate program for 4 years in it.
Moreover, through having a flexible research awareness which is practiced in Master's degree(2 years) and Doctoral degree(3 years) at Graduate School of Transdisciplinary Arts, we expect to create a new artistic expression.
Art works where words dwell
Our vision has the goal that students create their new artistic expressions for 4 years of the undergraduate program or 9 years including the Master and Doctoral programs in it. Throughout these periods, we hope that students find out "their real words of themselves" as expressionists. It is important to have "your own words" not only in artworks, but also in society. I believe that the spirit hidden in words or art will be understood  in any country, and will finally grow into something rich.
KITAGO Satoru
President
Akita University of Art
KITAGO Satoru (English Page)