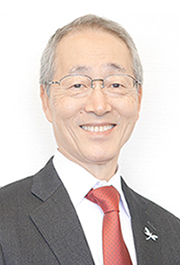 MESSAGE FROM THE PRESIDENT
Welcome to Akibi!

Akita University of Art ("Akibi"), previously Akita Municipal Junior College of Arts and Crafts, was re-organized as a 4-year university in 2013.
As you know, universities are places where academic freedom and freedom of expression are both highly valued. From the religious paintings of the Middle Ages, to the Renaissance and the Impressionists, fine art has developed as a series of systematic shocks. These are widely recognized as the products of free minds, as well as the new challenges such freedom often provokes. Contemporary art is also influenced by societal changes, and seeks to inspire future change by producing the same systematic shocks. We hope to provide a place where fine art is free to continue its development.
What sets Akita University of Art apart from other art schools in Japan is its unique curriculum, whereby students must study a wide range of subjects and genres before choosing their specialty. We also place a strong emphasis on social contribution and community development, through education which incorporates and reflects the history, culture and art of Akita.
We are currently enhancing our educational offering. This year, the Graduate School of Transdisciplinary Arts, itself only two years old, has added a Doctoral program to its already existing Master's program.
This summer, two of our faculty will participate in the world-famous Venice Biennale. We have also established exchange partnerships with universities in Taiwan, Sweden and Indonesia. These and other efforts work to fulfill our university's mission of fostering open-minded individuals capable of finding success on both the local and global stages.
As scientific advances continue, the world of tomorrow will increasingly rely on information technology and artificial intelligence. But how will this age of new challenges influence the world of art? That is for you to decide.
April 2019
Akinori Shimotori
President / Chair of the Board of Trustees
Akita University of Art
Akinori Shimotori (English Page)